Sing Now Choir Expands to Hedge End: Unveiling a New Location to Empower All in the Joy of Singing!
Thursday evenings, from 12th Oct 2023
Old School House, St John's Road
📱 Book My Free Taster Session!
We are thrilled to announce that we are opening a new Hedge End choir due to the incredible demand we have been experiencing in our Southampton and Fareham choirs.
It's been amazing to see so many people signing up to join our community choirs, with some people waiting for over a year to be a part of Sing Now Choir! We wanted to offer a new location to accommodate everyone, and Hedge End seemed like the perfect fit.
Sing Now Choir was first launched back in 2015 with the slogan 'Singing is for everyone', and we proudly stand by that statement to this day. We are all about inclusivity and welcoming everyone, regardless of their singing history with NO AUDITIONS!
We are thrilled to have vocal coach Becky Griffin leading the Hedge End choir. With over 8 years of choir leading experience, Becky has been big fan of the Sing Now Choir ethos for a long time;
"I love how Sing Now Choir is all about welcoming everybody and making them feel comfortable, even if they are terrified of singing at first!"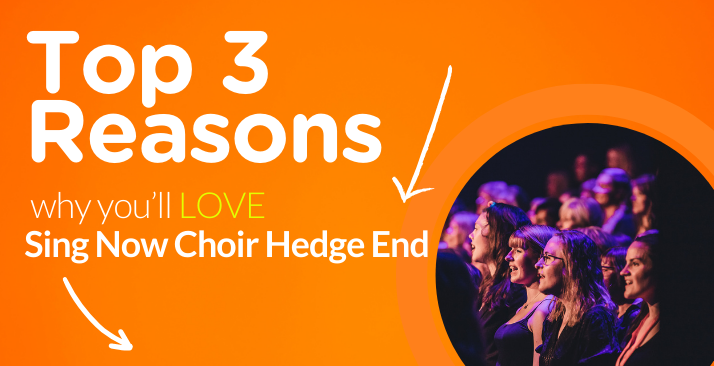 🧡 Top 3 reasons why you'll love Sing Now Choir Hedge End:
🗓 We meet all year round, with the occasional rest week, and we never stop singing for big summer breaks! You'll most likely find that we rehearse more than big choir chains in the UK.
💷 Fair pricing policy with no big contracts. We believe that everybody should have the opportunity to experience the Sing Now buzz, so we offer reasonable membership fees that can be canceled at any time. Unlike other choirs that ask for a yearly membership fee upfront, we simply charge a monthly membership fee.
🌱 We're contemporary – We've modernised what 'going to choir' really means, with an ambition to have friends mentioning Sing Now like they're attending a weekly gym class for some much needed me-time and a hefty wellness boost!
These are just a few reasons, but you'll also love our 'No Divas Policy', the fact that we do not hold auditions, we do not use sheet music and we limit our choirs so that they never get too busy and always maintain that personal touch! Find out more here.
---
😲 TWO free sessions – Special opening offer:
We are offering not one but two FREE taster sessions until the end of November.
If you attend a free taster session between 12/10/23 – 30/11/23, you are entitled to another free taster session the following week! Joining a new choir can be daunting, so we want to make sure you really get a feel for Sing Now before you signup.
---
👋 How to get involved:
If you don't want to miss your chance to be one of the founding members of the Hedge End choir, make sure to secure your spot now! If you've been waiting for an opportunity to join Sing Now Choir or if you're looking for a new and inclusive choir experience, don't wait any longer.
📱 Book My Free Taster Session!
Rehearsals for the Hedge End choir will be held at the beautiful Old School House on St John's Road. They will take place on Thursday evenings from 19:00 – 21:00. The launch date for the Hedge End choir is Thursday, 12th October 2023.