Check out the clip here: 
Local community choir gets reaction from Olly Murs!
When learning new songs at Sing Now Choir, we can only ever dream of the original artist hearing our version. Today, that dream became a reality, thanks to our Southampton member, Pat, who works for BBC Radio Solent! Pat got the opportunity to interview The X Factor (and The Voice) star Olly Murs on his radio show, broadcast on Wednesday 20th October 2021.
A few years ago, we started learning Troublemaker by Olly Murs (ft. Flo Rida) and eventually went on to perform it in 'One Sound: Space' at O2 Guildhall Southampton. During his interview with Olly, Pat took the perfect moment to play him our version of Troublemaker (which also includes a segment of Beyoncé's Crazy In Love) and here's what Olly said:
"I'll be honest with you Pat, I thought vocally fantastic, I thought they sung really really well, collectively, great harmonies in there.. but, I think, the song choice could be better 😜"
When Pat told Olly that we then mash-up his song with one of Beyoncé's, he insisted that he heard the rest of the song!
"No way, you do my song Troublemaker remixed into Beyonce? I need to hear that Pat"
After starting to sing along and join in with the famous "uh oh uh oh uh oh I'm gonna…" The Voice coach finally said that he would turn his chair for us and even alluded to Sir Tom Jones pressing his button too!
The biggest compliment a musical arranger can receive is if the original artist (and/or songwriter) likes what the arranger did with their song, so we were delighted to hear Olly ending the interview by saying "I'm nicking that idea… I'm gonna take that whole idea and take credit for it!"… We can't wait to hear it, Olly!
This isn't the first time that the original artist has heard one of our musical arrangements by Sing Now Choir founder, Jack White. In fact, from the same show, a video was tweeted of us singing Don't Worry About Me by Frances and we were so thankful when she replied "What a sound!! 😭😭😭😭" & "Wow thank you for sending me that!!! Made my week!!❤️"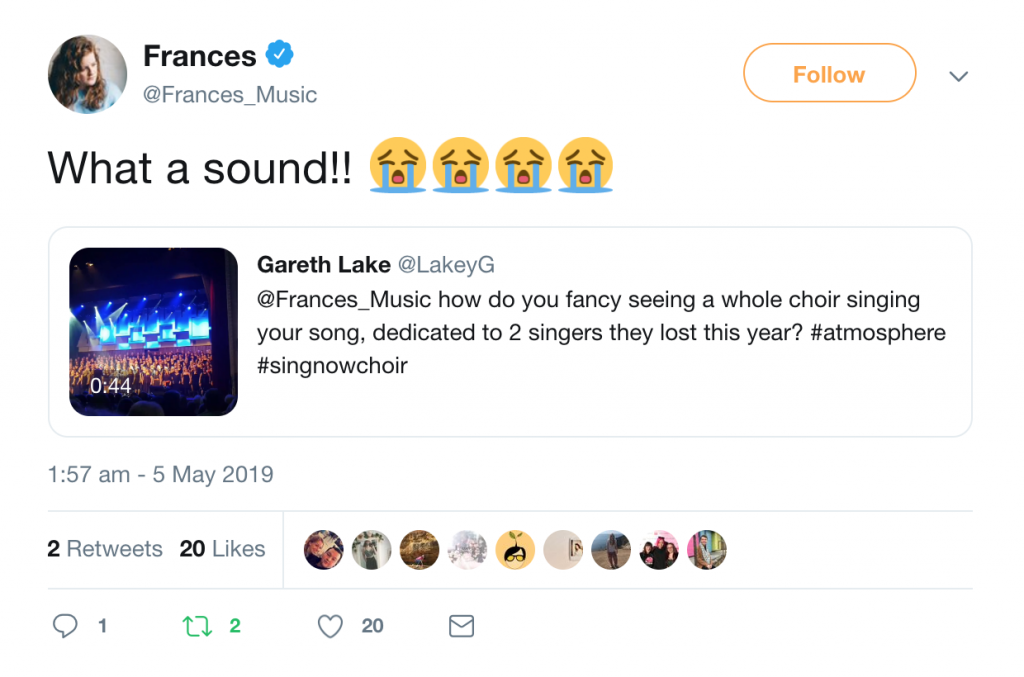 Big thanks to Pat Sissons, a long-standing member of our Southampton choir for this opportunity and of course, to Olly Murs, for producing such great tunes that we all love singing along to.
Singing in a local community choir is great, dancing and performing is amazing, meeting new friends is life-changing… but really, it all boils down to one thing (and we'd be nothing without this): The songs and the music.
Check out Olly's latest tour dates here: Olly Murs Official Website
Apply for a free taster session with Sing Now Choir: Apply here