Now that we're planning our return to indoor sessions, since the COVID-19 pandemic started, this seems like the perfect time to share our new website and branding!
Here's a little bit about our new logo: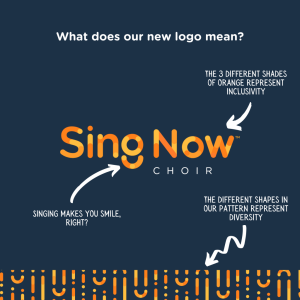 Our new website has a new, simple to use, interface. Plus, a brand new Members' Area where our singers can access their harmony MP3s, lyrics and calendar securely.
Why the refresh?
Well, after running for 6 years, we've really fine tuned what Sing Now Choir is all about and we wanted our branding to reflect this. We use our logo lots (on lyric sheets, social media, events programmes, etc) and so it's important that it truly means something to us. We strive for positivity, inclusivity and no judgement.
Most of our new members find out about Sing Now through search engines and social media, so we really wanted to invest in a website that champions our brand and our values. Check out our new vision page, where you'll be able to read more about the Sing Now community. We also hope that prospective members will find our new FAQ's section really helpful (find it by scrolling to the bottom of this page).
Enjoy having a look around our new website and hopefully you'll see the Sing Now Choir logo out and about at one of our performances in the future!